What Causes Skin Problems for Dogs and Which Are the Most Common Ones?

Written by: Sarah Seward-Langdon

Reviewed by: Amanda Nascimento, DVM, MSc, Ph.D

You know that saying, "dogs are man's best friend"—well it's very true. They love unconditionally and usually waste no time in covering us owners with slobbery kisses or relentlessly asking to engage in dog play. However, every now and then, changes in a dog's behavior or even their physical body may indicate that something isn't right. One of the most common things dog owners will notice is their pooch having skin issues and problems. Luckily, there are a number of ways to treat these issues, including home remedies or simple additions to their diet (ahem, Smart Earth Camelina oil perhaps?). However, before we go into the details about the possible solutions, it is important to first understand the different types of skin problems dogs can suffer from, as well as some of the most common causes of skin conditions in dogs.
If you feel that you've done everything right and you're confused and alone, don't panic—dogs with skin issues are more common than you may think. Dogs suffer for a variety of reasons, including allergies, parasites, or even changes in the weather. If your dog starts any abnormal itching or biting, this is a sign that something is wrong and it's time to consult a veterinarian to try and figure out what is causing their discomfort. But before we dive into all the different types of skin issues, let's talk about common symptoms!
Common Symptoms to Look Out For

Dog skin issues often arise abruptly and out of the blue, so much so that it's hard to diagnose without a professional opinion. Some of the common symptoms of skin problems include:


Flaking, crusting, and scabbing

New or stronger odor

Discoloration

Increased or abnormal licking, biting, and chewing

Hair loss

Redness

Pustules, pimples, or bumps

Rash
Remember that if you notice any of these symptoms, then it's best to take your pooch to the vet for a check-up to determine the source of the skin condition. It's important to know that you're taking the right steps to eliminate any pain or discomfort, as fast as possible!
Learn more about how Smart Earth Camelina Products can help your pet, especially in diminishing symptoms of skin issues.
6 Common Skin Conditions & Causes Found in Dogs

Allergies

Parasites

Hot spots

Yeast infection

Folliculitis

Mites

Allergies
What are allergies exactly? Simply put they are immune system reactions to foreign particles that the body recognizes as potentially harmful. Just like us humans, dogs can be susceptible to certain types of allergies, including foods and environment hypersensitivities (or both). Dog allergies impact dogs in many different ways—depending on the unique dog, allergies may appear as hives, chronic ear infections, itching, and rashes. [1]
In order to treat allergies properly, it requires getting down to the root cause (through testing or a strict elimination diet) and then managing it as efficiently as possible. Management may be something as simple as finding an alternative food or a prescription of specific medications if the problem is more severe.
Parasites
Parasites are a scary thing to think about—the idea of your furry companion being overrun with them is a horrible thought. Luckily, modern medicine for our canine companions has advanced tremendously over the last few decades and is extremely effective in eradicating parasites.
A very common parasite that can plague almost every dog that has run through an overgrown field (or many) in the wilderness is fleas. Fleas cause intense itchiness and commonly affected sites are at the base of the tail, directly on the stomach, and along the inner thighs. [2] Luckily, with the help of your vet, a flea preventative/medication will help you get rid of them in no time. It's important to note there are different types of parasites that can cause similar symptoms to fleas, so make sure you take the time to consult your vet.
Another dangerous bug for dogs is ticks—North Americans need to be wary of these during the late spring and summer months! Ticks are tiny parasites that can burrow into your dog's skin and cause tick-borne diseases that can cause serious harm to your dog. Vaccines aren't available for many of these diseases, which is why it's very important to take preventative measures. Talk to your vet about the best option of prevention, but you can also help your dog by regularly checking them for ticks (especially after spending times outdoors) and removing them very quickly if you find any [6].
✅ Single ingredient, 100% pure Camelina Oil.
✅ Non-GMO
✅ Ideal balance of Omega-3 compared to other products, like soybean oil.
✅ Canadian produced and operated.

✅ Single ingredient, 100% pure Camelina Oil.
✅ Non-GMO
✅ Ideal balance of Omega-3 compared to other products, like soybean oil.
✅ Canadian produced and operated.

Hot spots
Not only are hot spots known as a symptom of other skin conditions. They are a condition of their own! Hot spots are areas that have been irritated from repeated itching and licking by your dog. They tend to emit a foul odor, cause hair-loss, and may become infected and inflamed if left untreated. There are numerous causes for hot spots, and can range from anything as simple as food allergies, grass, fleas and mites, or insect bites and skin wounds. Apple cider vinegar may help the treatment of hot spots when they appear. Another possible solution could be to add Smart Earth Camelina oil to your dog's diet since it has shown to boost general coat and skin health.


Yeast infection
Yeast infections can cause an unpleasant odor to be emitted by your dog, even after a nice bath. This is paired with greasy, flaky, and/or irritated skin. Some areas to look out for when dealing with yeast infections are the paws, ears, and skin folds. Certain breeds are more prone to yeast infections as well—examples being Poodles, Boxers, and Shih Tzus. Yeast infections are typically dealt with using a topical antifungal creams, wipes, spray, or shampoos. [4]
A common issue with yeast infections is that the signs of infection are nearly identical to the symptoms of a parasite called ear mites. Ear mites are extremely itchy and cause a lot of the same symptoms. Mites can sometimes lead to something called mange, a skin infection that causes itching as well as possible hair thinning or patches of complete loss of fur [7]. The development of skin lesions in psoroptic mange is associated with the host's immune response; therefore, adding Omega 3 to their diet may help in supporting their immunity against this type of mite.
It's important you consult your vet to ensure you're dealing with one or the other as treatments differ between these two skin issues.
Folliculitis  
Folliculitis is widely considered to be one of the most common skin infections in dogs. It is when inflammation occurs in one or more hair follicles which leads to infection due to the presence of bacteria. The bacteria that causes folliculitis is commonly found on the skin of dogs, so the infection only occurs when a hair follicle is compromised by localized trauma, an underlying systemic disease, or a specific skin disorder [5].
Folliculitis occurs as a secondary infection due to any of the prior skin issues we have just gone through, so it's very important you take preventative measures by giving your dog the best nutrients available. Since folliculitis is an inflammation, a great example of a supplement that could be helpful is Smart Earth Camelina Oil.
Camelina Oil is an amazing source of omega-3 fatty acids, known to be a helpful antioxidant and anti-inflammatory.
Mites
Skin issues in dogs are common, yet the cause or reason for the issue can be difficult to determine. Look over this list of common skin issues and see if your dog has similar symptoms. From there, you can look into what may be causing the problem, how it can be treated and if your dog will outgrow it.
Once you identify the cause things become easier for your pup

One of the key factors in treating skin problems is knowing the underlying cause. Whether it's an allergy, a faulty diet, an infection, or hormonal changes, knowing why your dog is experiencing skin conditions will help you to more effectively treat these issues. By investigating your dog's skin condition more carefully, you can hopefully take steps to eliminate them once and for all.
✅ Single ingredient, 100% pure Camelina Oil.
✅ Non-GMO
✅ Ideal balance of Omega-3 compared to other products, like soybean oil.
✅ Canadian produced and operated.

✅ Single ingredient, 100% pure Camelina Oil.
✅ Non-GMO
✅ Ideal balance of Omega-3 compared to other products, like soybean oil.
✅ Canadian produced and operated.

---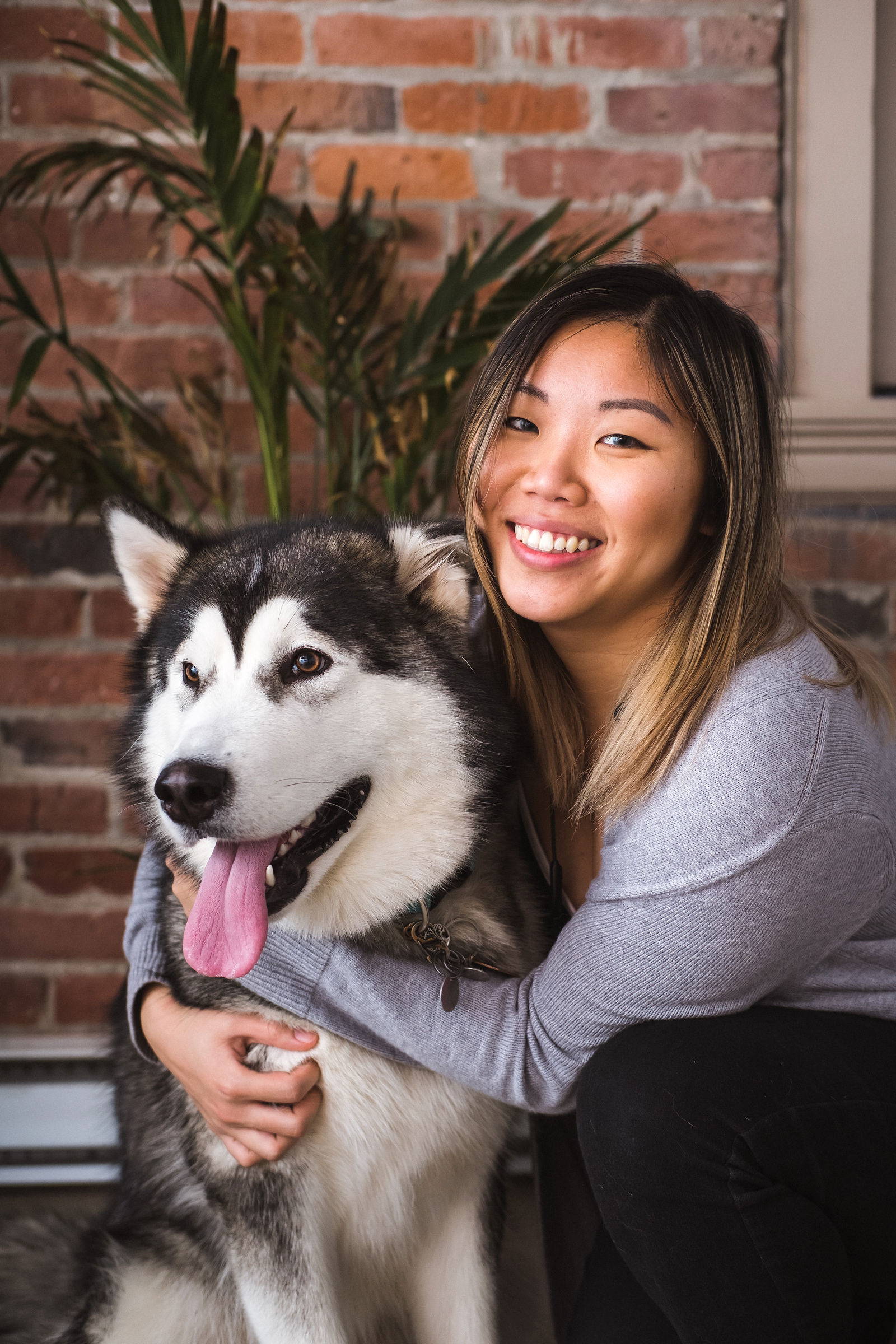 Sarah is a marketing specialist with a passion for anything creative! Her openness to working across industries and job opportunities has allowed her to gain enormous amounts of experience in graphic design, video production, and written content creation. Animals have a special place in her heart as she grew up with cats and now owns her own Alaskan Malamute. She has spent the last couple of years in Vancouver working with different companies within the pet industry and gained valuable knowledge about the ins and outs of the (alternative) pet food industry, supplementation, and various training methods. When she's not digitally creating content for pet lovers to consume, she's out eating great food, dancing at drop-in classes, or exploring the beautiful Canadian scenery with her fur-child Miso.